Exhibition "AKKU ALLE" opens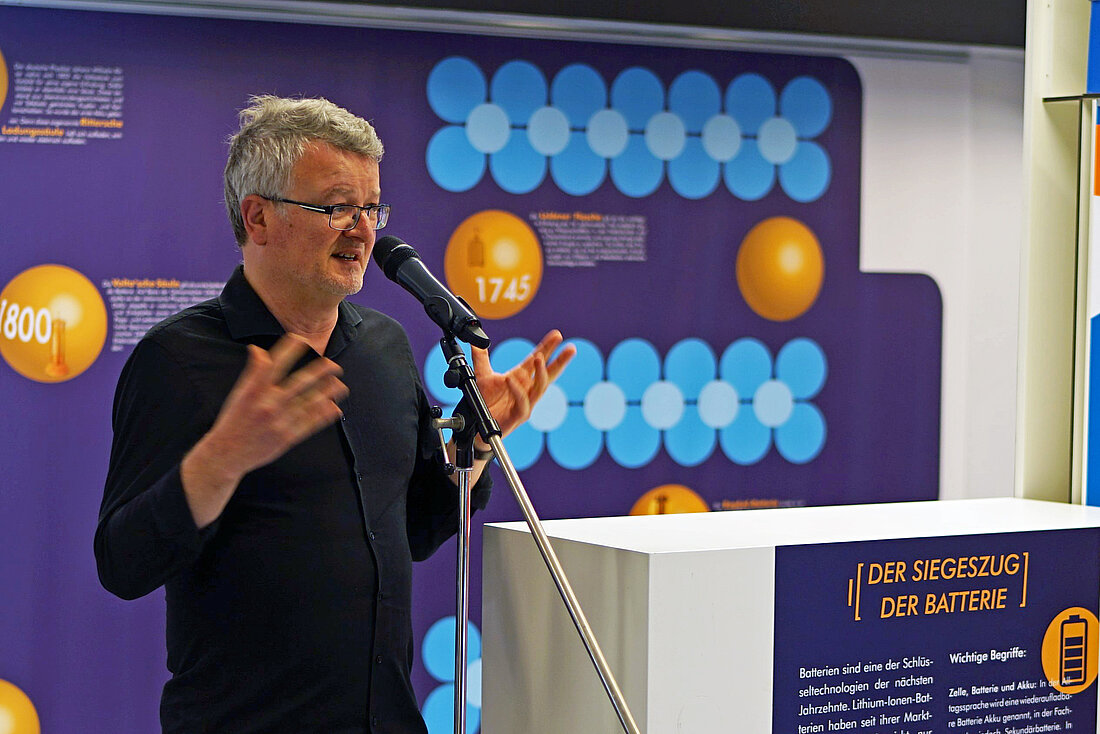 The exhibition "AKKU ALLE?!" will be on display at m25 (Münsterplatz 25) from June 4 to July 14, 2021.
The opening hours of the exhibition are Tuesday to Sunday from 2 to 6 pm.
---
Ulm' mayor Gunter Czisch and POLiS spokesperson Maximilian Fichtner opened the exhibition on energy storage and electromobility in presence of media representatives. "We see that batteries are becoming more and more important in different areas of life - from electromobility to solar storage in the household. There are many myths and critics about this and for us it was time to simply inform what the state of the art is," Maximilian Fichtner explained the motivation behind the exhibition.
Somewhat provocatively, Ulm battery research raises the question: "AKKU ALLE?!" (Battery low?). The battery business is booming. At the same time, Ulm battery researchers face the challenge that batteries must also deliver what they promise: A climate-friendly energy supply and electromobility for all of us. This requires sustainable battery materials, some of which have yet to be invented.
These batteries of the future are being researched in Ulm. For the first time, Ulm's battery research (Helmholtz Institute Ulm, Cluster of Excellence POLiS, Research Platform CELEST, German Aerospace Center, Ulm University, Center for Solar Energy and Hydrogen Research Baden-Württemberg and Karlsruhe Institute of Technology) is jointly hosting an exhibition on sustainable energy storage and electromobility for the public at m25 (Münsterplatz 25).
The AKKU ALLE exhibition features more than 100 battery-powered exhibits from everyday life. Absolute highlights of the exhibition: In a "blackout" simulation for Ulm in 2029, a six-day power outage in the Danube-Iller region is virtually acted out. In addition, top-class exhibits from industry and science will be on display. Included: a large-scale e-car module, a hydrogen aircraft, a home storage system and over 100 individual exhibits from everyday life. Visitors will be amazed at where a battery is hidden everywhere.