Career & Support
Jobs & Calls
Junior Research Group Leader (JRGL) Preparation Program
CALL
Early career researchers who work on post-lithium batteries or related topics and who look for a stimulating and excellent environment to pursue their research ideas are invited to apply now for one of two available positions in the POLiS Junior Research Group Application Program (JuRaGAP). The application deadline is May 16 (exclusion date).
PhD Position (m/f/d): Development of filament materials for fused filament fabrication (FFF) 3D printing of all solid-state sodium ion batteries (ASSSIB)
Organizational unit
Institute for Applied Materials - Applied Materials Physics (IAM-AWP)
Job description
The position is a cooperation with the Institute for Applied Materials – Materials Science and Engineering (IAM-WK).
This position is to be filled within the Cluster of Excellence POLiS and the overall goal of the related project is to develop a 3D printing process as manufacturing technology for post-lithium all-solid-state sodium ion batteries (ASSSIBs) and to evaluate, optimize these processes in battery performance. Exploring various techniques to improve battery-manufacturing processes is of great interest for the research community as well as for the industry, and 3D printing fused filament fabrication (FFF) is a very promising approach in the battery production process to introduce additive manufacturing technology.
The goal of the thesis is to gain understanding in printing material development and thermally post processing, to increase the thickness of the electrode layers without worsening the cell performance in production of sodium ion batteries followed by thermal characterization and safety analysis. This includes the complete process chain of preparing and characterizing of the printing materials, up to the electrochemical investigation of the electrochemical cells and the feasibility for upscaling. The know-how of material production as well as of 3D printing is already available in both institutes.
We offer you the opportunity to complete the promotion within three years. During this time, you will work in an interdisciplinary working group at IAM-AWP and IAM-WK. You will have access to the excellent research infrastructure and experimental facilities at KIT. The work will be conducted also in cooperation with the research group of Physical chemistry of solids – solid-state ionics and electrochemistry at Justus-Liebig university of Giessen. You will also be a member of the graduate school electrochemical energy storage (GS-EES).
Starting date
immediately
Personal qualification
University degree (Diploma / Master) in materials science, process engineering, mechanical engineering, chemistry or similar qualifications
Knowledge in the field of electrochemistry, especially in electrochemical impedance spectroscopy (EIS) and of thermal characterization methods is desirable.
Practical skills and technical understanding of process steps
First battery and 3D printing research experience/internships would be an asset, but are not required.
Proficiency in English language (B2/C1) and German language (C1) is obligatory.
Excellent ability to cooperate with internal and external project partners.
Contract duration
limited to 3 years
Application up to
Feb. 15, .2021
Contact person in line-management
For further information, please contact Dr. Ijaz Ul Mohsin (IAM-AWP), Phone: 0721 608 23390, Email: ijaz.mohsin@kit.edu or . Mrs. Dorit Nötzel (IAM-WK) , Phone: 0721-608 23673, Email: dorit.noetzel@kit.edu.
Please apply online using the buttonon the right for this vacancy number 01-2021/IAM-AWP.
Ausschreibungsnummer: 01-2021/IAM-AWP
Recognized severely disabled persons will be preferred if they are equally qualified.
Contact
Personnel Support is provided by:
Ms Meinel
Phone: +49 721 608-25029,
Hermann-von-Helmholtz-Platz 1, 76344 Eggenstein-Leopoldshafen, Germany
Academic employee (m/f/d) (PhD student)
Within the framework of the Cluster of Excellence "Post Lithium Storage (POLiS)" we are looking for a/an
Academic employee (m/f/d) (PhD student)
The project is concerned with fundamental questions regarding the properties of electrochemical interfaces in magnesium batteries. Here, the electrodes will be studied in a time-resolved manner by means of reflection anisotropy spectroscopy spectroscopy in the electrolyte to understand potential-dependent changes of the electrode's structure. The successful applicant will also become part of the Graduate School "Electrochemical Energy Storage GS-EES".
> Scope: Part-time 67% > Temporary: 3 years > Remuneration: TV-L 13 > Start: as early as possible
Your profile:
Degree in physics, chemistry or materials science
Very good English language proficiency.
Experience in electrochemistry or spectroscopy desirable.
High Motivation and the ability to work in the field of application-oriented fundamental science for the transition to a sustainable energy system.
Your responsibilities:
Planning, implementation, and analysis of spectro-electrochemical experiments.
Sample preparation by electrochemical methods.
Close cooperation with theorists.
Presentation of results on international conferences and in journals.
The PhD position will be located at the Institute of Theoretical Chemistry and the successful applicant will take part in the graduate school "Electrochemical Energy Storage".
Seize the opportunity and join us in shaping the future of the University!
Ulm University with its more than 10,000 students offers varied professional tasks in a highly innovative research, teaching and work environment, at the same time facilitating the reconciliation of work and family in many ways.
We seek to increase the proportion of women in research and teaching and particularly encourages qualified female scientists to apply for this position.

Severely disabled applicants with equal aptitude will be given preferential
consideration.
Graduate School EES
PhD students doing their research in the framework of POliS take part in the Graduate School Electrochemical Energy Storage.
The GS-EES addresses the full, community-spanning spectrum of electrochemical energy storage and conversion, from fundamental science to processing and application
The GS-EES offers a comprehensive education and training program in these areas, emphasizing interdisciplinary aspects
The GS-EES is committed to offer professional skills training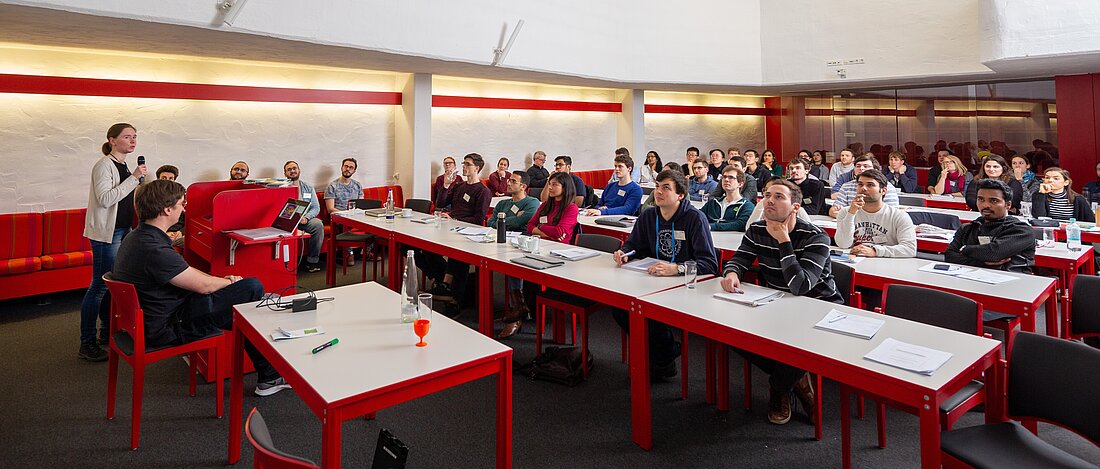 POLiS funds about 60 PhD students.
The GS-EES operates within the Center for Electrochemical Energy Storage CELEST.
Research fields are Li-ion batteries, post Li batteries, fuel cells, etc.
Die GS-EES offers:
An interdisciplinary block course Materials, Funcitoning and Technology of Batteries
An Annual Summer School
Topical block courses and workshops on scientific or method-related topics
Professional skills training, in the fields of scientific communication, management, good scientific practice and equal opportunities
Research abroad for 3 months
Please visit the GS-EES Website for further information
Equal opportunities
The members of the Cluster and the board are strongly committed to ensure equal career opportunity irrespective of gender, age, origin, personal background and religion.
Our aims are:
Creating an accepting, inclusive and diverse culture, which fosters inclusion and interculturality within the Cluster
Raising awareness of equality and diversity and the impact of unconscious bias through various programs
Achieving equal opportunities for women and men at all levels of the Cluster
Raising the number of women at all qualification levels and especially in leadership positions
Compatibility of family and career
For doing this, we will implement Cluster-specific measures and at the same time make use of established structures and instruments at Ulm University and Karlsruhe Institute of Technology (KIT), such as personnel development and diversity management units, monitoring of hiring procedures, initiatives for reconciliation of work and family life, and various mentoring and coaching programs.
Proportion of women in POLiS
16,0 % Female Principle Investigators
50,0 % Spokeswomen of Research Units
37,5% Female Representatives of the General Assembly
Nationalities in POLiS
15 different nationalities
27 % researchers from other countries
News