Career & Support
Jobs & Calls
Junior Research Group Leader (JRGL) Preparation Program
CALL
The POLiS JRGL Preparation Program provides early career researchers with the opportunity to raise funding for and establish a third-party funded junior research group in the Cluster. Participants spend two years as a postdoc at one of the partner universities (Ulm University, KIT, JLU Gießen) while preparing the proposal for their junior research group. The application deadline is October 31 (exclusion date), each year.
POLiS Award of Excellence for Female Researchers
ANNOUNCEMENT

The POLiS Award of Excellence for Female Researchers is given annually to an outstanding female early and mid-career researcher working in one of the scientific topics of the POLiS Cluster. It entails up to 70,000 € for one or several research stays at one of POLiS participating institutions (Karlsruhe Institute of Technology (KIT), Ulm University, the Centre for Solar Energy and Hydrogen Research Baden-Württemberg (ZSW) and University of Giessen) to establish and strengthen international collaborations.
Post-doc position
Within the framework of the POLiS Cluster of Excellence project on "Quantum sensing for battery research ", a post-doctoral position is immediately available in the Institute of Quantum optics at Ulm University. The project is focused on development of nitrogen-vacancy centres in diamond based technology for nanoscale NMR of electrolyte/electrode interfaces. We are also aiming to apply diamond magnetometers for non-contact probing of battery charge transport. Candidates should bring a strong research record in quantum physics and technology. Previous experience in NV centres based quantum sensing is advantageous.
Application
Applicants are asked to include a formal application letter and a CV including scientific achievements and send it via e-mail to Prof. Dr. Fedor Jelezko. For questions in relation to the advertised position, you can also contact Prof. Jelezko.
fedor.jelezko@uni-ulm.de
Tel: + 49 (0)731 50 23750

We seek to increase the proportion of women in research and teaching and particularly encourages qualified female scientists
to apply for this position. Severely disabled applicants with equal aptitude will be given preferential consideration.
PhD position
There is an open position within the Cluster of Excellence "Post Lithium Storage (POLiS)" for a
Academic employee (m/f/d)
(PhD student)
to join the Graduate School 'Electrochemical Energy Storage GS-EES' as part of the Center for Electrochemical Energy Storage Ulm & Karlsruhe (CELEST)
> Scope: Part-time 67% > Temporary: 3 years > Remuneration: TV-L 13 > Start: as early as possible
Your profile:
A Master's degree (or equivalent) in materials science, chemistry or a relevant discipline.
English language proficiency corresponding to C1 level
Experience in inorganic material synthesis or electrochemical measurements is preferable
Your responsibilities:
The proposed thesis work will focus on understanding the charge transfer and structural evolution in the multivalent battery systems, and establishing insertion chemistry that enables fast multivalent ion diffusion kinetics. The target is to develop multivalent battery cathodes with simultaneously high energy density and high power density.
Your tasks include synthesizing inorganic materials (mainly transition metal sulfides), testing their electrochemical performances in multivalent batteries (Mg- and Ca- batteries), and further mechanism investigation.
The PhD position is affiliated to the Helmholtz Institute Ulm (Prof. Maximilian Fichtner) and the Karlsruhe Institute of Technology (Dr. Zhenyou Li.)
Seize the opportunity and join us in shaping the future of the University!
> Reference no.: 20040 > Application deadline: 31.08.2020
Hiring is done by the Central University Administration.

Your contact for further information:
Dr. Zhenyou Li, phone +49 721 608 28972

We look forward to your application via our online application portal.
Ulm University with its more than 10,000 students offers varied professional tasks in a highly innovative research, teaching and work environment, at the same time facilitating the reconciliation of work and family in many ways.
We seek to increase the proportion of women in research and teaching and particularly encourages qualified female scientists to apply for this position.

Severely disabled applicants with equal aptitude will be given preferential consideration.
Graduate School EES
PhD students doing their research in the framework of POliS take part in the Graduate School Electrochemical Energy Storage.
The GS-EES addresses the full, community-spanning spectrum of electrochemical energy storage and conversion, from fundamental science to processing and application
The GS-EES offers a comprehensive education and training program in these areas, emphasizing interdisciplinary aspects
The GS-EES is committed to offer professional skills training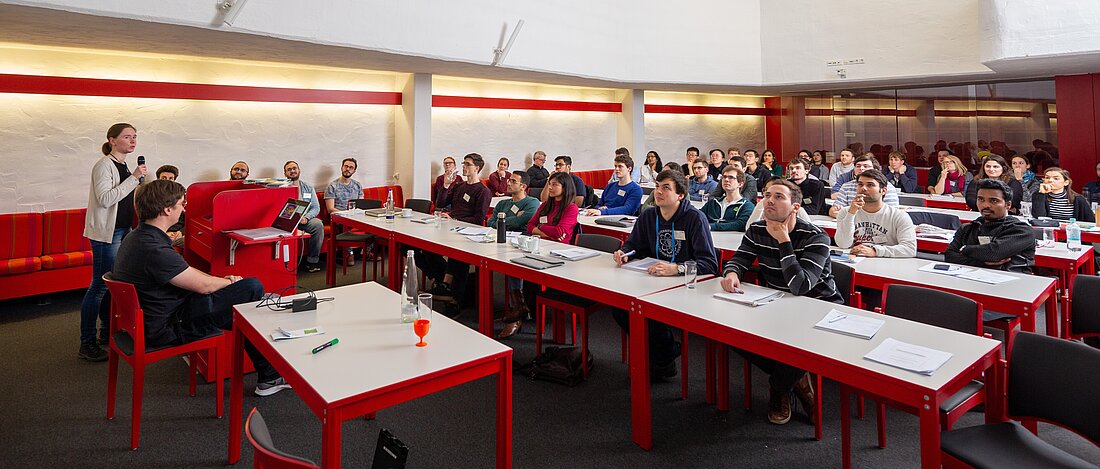 POLiS funds about 60 PhD students.
The GS-EES operates within the Center for Electrochemical Energy Storage CELEST.
Research fields are Li-ion batteries, post Li batteries, fuel cells, etc.
Die GS-EES offers:
An interdisciplinary block course Materials, Funcitoning and Technology of Batteries
An Annual Summer School
Topical block courses and workshops on scientific or method-related topics
Professional skills training, in the fields of scientific communication, management, good scientific practice and equal opportunities
Research abroad for 3 months
Please visit the GS-EES Website for further information
Equal opportunities
The members of the Cluster and the board are strongly committed to ensure equal career opportunity irrespective of gender, age, origin, personal background and religion.
Our aims are:
Creating an accepting, inclusive and diverse culture, which fosters inclusion and interculturality within the Cluster
Raising awareness of equality and diversity and the impact of unconscious bias through various programs
Achieving equal opportunities for women and men at all levels of the Cluster
Raising the number of women at all qualification levels and especially in leadership positions
Compatibility of family and career
For doing this, we will implement Cluster-specific measures and at the same time make use of established structures and instruments at Ulm University and Karlsruhe Institute of Technology (KIT), such as personnel development and diversity management units, monitoring of hiring procedures, initiatives for reconciliation of work and family life, and various mentoring and coaching programs.
Proportion of women in POLiS
16,0 % Female Principle Investigators
50,0 % Spokeswomen of Research Units
37,5% Female Representatives of the General Assembly
Nationalities in POLiS
15 different nationalities
27 % researchers from other countries